What methods of payment do you accept
We accept Visa, MasterCard, American Express, Discover, checks, money orders and cashier checks. Checks, money orders and cashier checks are not accepted online and must be mailed.

Are there engraving charges? Can I request a proof?
No, engraving is included in all our awards. We center all text unless the customer notes otherwise. For all "custom" engraving such as logos you can request a proof and we can email one. We do not charge extra for less than 50 characters of engraving, like most of our competitors do. Please note that there is a $0.05 charge for each additional character over 50 "Total" characters. There is a $0.03 charge for each character engraved on all our medals.
.
Logos
Production time is 2-3 business days after approved artwork is received. Please e-mail logo and place the full name the order was placed under in subject to: jmyers@gameballtrophies.com. If you are including a logo please remember, the better the art, the better quality will appear on your awards. We digitally accept EPS, JPG, GIF and Adobe Illustrator files. If we engraved a log on a previous order and you would like it engraved on a new order you MUST tell us so we know to use it. You can type a note into the comment section during the checkout process. Or you email us telling us to use the previous logo on your new order.

How much text can I put on my award?
In the text area of each award there is a suggested maximum number of lines of text that can be engraved.

How long will it take to make my order?
We are open with a limited staff due to the Coronavirus. Orders received will be shipped within 2-3 business days. We will also be checking our voicemail and will try to respond as soon as we can.
Large/League orders may take 4-5 Business Days.

Orders are sent via UPS Standard Ground delivery unless a faster option is selected.
To find out when you will receive your order(s), you need to also consider the shipping time needed to reach your location. (See UPS map below)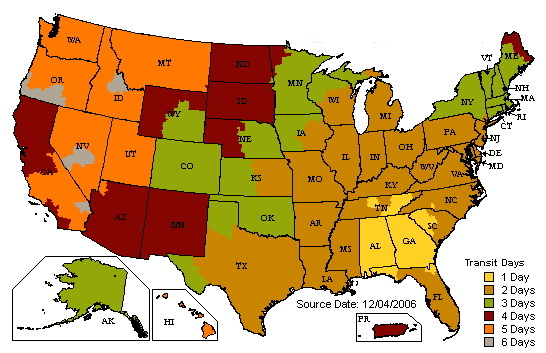 What are your shipping charges?
We use UPS ground as our standard shipping method. Overnight, 2nd day service and 3 day select are also available. UPS Saturday delivery is available upon request. UPS does not deliver on Sunday. There is an additional $5 charge to ship to APO-FPO boxes. We can ship to our friends in Alaska and Hawaii for an additional shipping charge. We offer FREE UPS Ground delivery for orders over $100.

Do you offer shipping insurance?
All awards are insured against loss and damage during shipping at no extra cost to you.


What are your customer satisfaction policies?
Gameball Trophies wants you to be satisfied with our products and our service. We quality check all trophies individually before packing and shipping. If your trophies are damaged or not what you expected, please let us know as quickley as possible. We will build new trophies and ship them to you or arrange a full refund. If you receive your order and decide that you do not want your products, you can ship them back to us at your expense. We charge a 25% restocking fee for returned orders. We will credit you the difference when we receive your returned order. All returns and exchanges must take place within 30 days of receipt of trophies. Custom make awards and plaques are not returnable because they can't be restored for resale.

Will I be charged for redelivery of my order?
Charges will apply to orders requiring reshipment due to incorrect delivery information by the customer.

Do I have to pay sales tax?
Orders shipped within GA State will have sales tax added to the invoice. If your state has a sales tax, it is your responsibility to pay the sales tax directly to your taxing authority.

Is Internet shopping safe?
When you order, we transfer to a secure server before collecting your credit card information. The secure server software (SSL) encrypts then sends your information securely. Your credit card information is used only by Authorize.net, a credit card processing company.

Additionally, we use the Address Verification System (AVS) to verify the billing address matches the address of the credit card. We use other resources and procedures to ensure all orders are valid.
What if I make a mistake on my order?
Please e-mail us as soon as possible. Depending on the item, we will send out a replacement engraving plate or replace the item. Naturally, if we make the mistake there is no charge. If the customer makes the mistake there will be a charge.

Can I change my order after receiving confirmation?
All sales submitted online enter our system and are sometimes processed immediately. Therefore, any changes may be charged a fee for work done. Please confirm order quantities and engraving before placing orders. Cancelled orders may result in production time charges.

What is your return policy?
If you receive an order that is damaged or incorrect, please contact us immediately. We will do everything possible to correct the situation to your satisfaction.
Shipping Policy | Contact Us | Copyright © 2004-2021 Gameball Trophies All Rights Reserved