Domestic Ship Times
Most orders ship within 2-4 business days depending on the size, availability and type of awards during the month of September.
Large/League orders may take 7 business days.
Orders are sent via UPS Standard Ground delivery unless a faster option is selected.
To find out when you will receive your order(s), you need to also consider the shipping time needed to reach your location. (See UPS map below)

NEED YOUR ORDER FASTER?
If you have an order that needs to arrive very quickly please call us before placing your order. Lets make sure you can receive your order in time. We will do our very best to move your order up and get it out! Paying for one of the UPS express services only expedites the actual shipping time, not the processing time needed to build and/or engrave your order.
Domestic orders can be sent via Standard Ground Delivery, 3-DAY Select, 2nd Day Air, or Next Day Air. Use the map below to determine your actual shipping time with the Standard UPS Ground Delivery.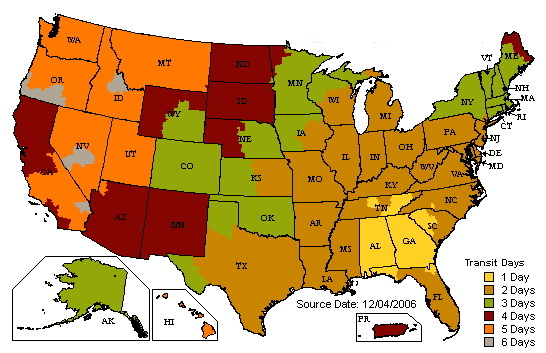 Shipping Cost
Gameball Trophies.com offers FREE Ground UPS Shipping to addresses in the continental U.S. on all orders totaling $100 or more, before tax and shipping. Orders totaling less than $100 are subject to UPS shipping fees. Gameball Trophies does not charge extra fees for shipping and handling.
APO/FPO Customers
(No Internet Orders) Please send us an e-mail stating your order is an APO or a FPO. We will reply with the information needed to process the order. Orders are shipped via the US Postal Service. Priority mail takes approximately 3-10 business days depending on your global location. Unfortunately APO/FPO orders do not qualify for free shipping.
Questions and Sales: jmyers@gameballtrophies.com
Order Tracking
You can use the UPS online package tracker by clicking here to track your orders from the minute they are picked up until the moment you receive your shipment.. We also have a shipping chart shown above which shows the approximate shipping time from Gameball Trophies.
Expedited Shipping
The cost of expedited shipping varies on how fast you want need you order. Gameball Trophies offers multiple shipping options including overnight service. When you place an order, the shipping page will inform you how much each available option is based on your location and the size of the order(s). A signature is required at delivery time for all air shipments through UPS.